So apparently, we want to build a wall to keep people out, but take the kids from those who do make it in and place those kids in foster care. That will certainly help the situation won't it? Build the wall – foster the kids!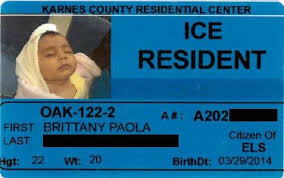 Baby's first photo ID! So cute!
It's hard to overstate just how intentional these policies are at overloading the institutions that we rely on for basic care and peace. Attacks on the courts, attacks on immigrants, people or color, political opponents.  It's just one long attack on the system designed to keep people on their heels.